How can I test or preview data recovery software before pay?
Question: Partition Doctor is stated as free to evaluate, but I can't recover anything to test it, it direct me to buy the licenses.
Answer: The trial version of Partition Doctor will not let you save any recovered file unless you purchase the license. But there is the way to check the recovered files without saving them to be sure they have been recovered correctly. Select single found file, and if it's fine and supported for preview, you will see it opened in Preview Pane below the search list, and the thumbnails should be generated. Right-click to the file and select Preview in New Window to check the file completely. If you will see what you need in the preview — we give you 100% guarantee for successful recovery with full version of the product for what you've seen. The preview means that the file is already recovered successfully, so with the full version of Partition Doctor you just will be able to save it. But remember, the preview should include all parts of your document and in original resolution with any noise or garbage.Example of the preview for picture file is below: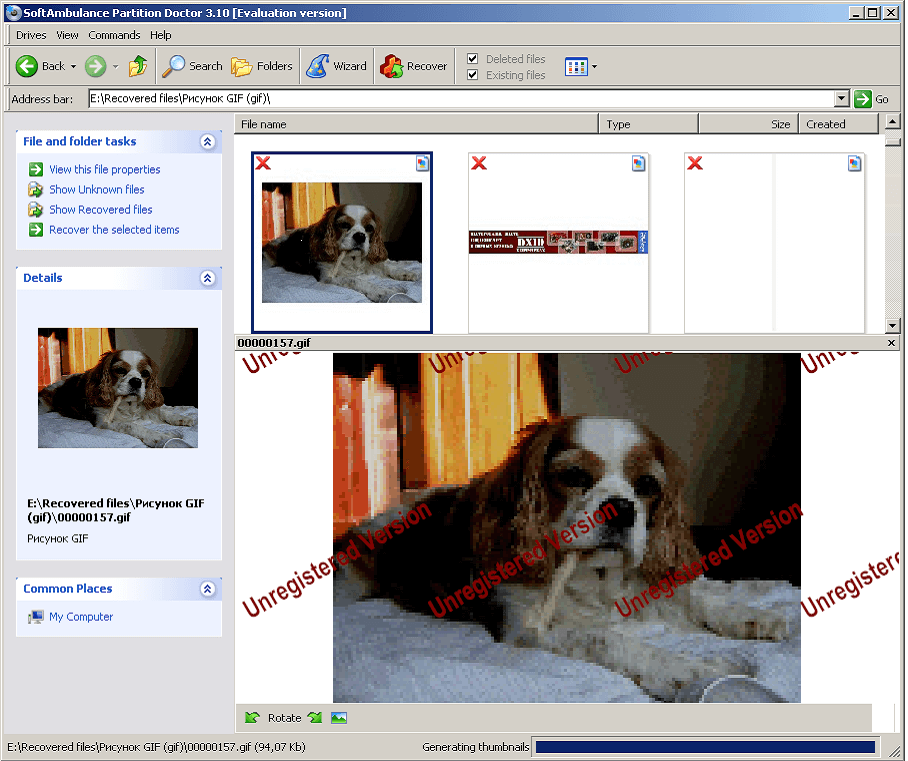 But if there is no correct preview, it does not a sign that the file is 100% unrecoverable. It's possible that there's something in your file that conflicts with our internal viewer, but will be fine with usual application.
Question: I've completed the scan, found and preview the files I need successfully. Now I'm going to purchase the full version. Will I be able to use the current scan results, or do I need to repeat the scan with full product?
Answer: You can recover the files using trial version using your key. Select the files and click to Recover, and you will be asked for license key.
Question: Can you give me the guarantee for successful recovery if I've seen file name, correct file size and Excellent prognosis.
Answer: While in most cases the file will be recovered without any problem, but we do not guarantee successful recovery if you didn't see a preview. That's why it's important to check the previews. Partition Doctor can't check the previews automatically, as only the customer knows how the correct preview should look like.
Question: What is the prognosis, what is it for?
Answer: The prognosis tells you about the state of file record in the file system. It does not give you guarantee for successful recovery even in case of 100%, but it gives you a sing that the chances for successful recovery are very high.
Question: I've seen the HEX preview for my file, what is my guarantees?
Answer: If you can't open the normal preview of the file, and only HEX is available, it could be a sign that your file may be damaged, as our internal viewer can't display it. We can give you guarantee for successful recovery only if you're sure that the HEX preview displayed for your files is 100% correct.
Question: I cannot preview my file with your software, as it's rare file format and it is not supported by Partition Doctor. I need the guarantee for successful recovery.
Answer: Sorry, but we do not give guarantee for successful recovery if there is no preview. But you still can try to purchase the product and recover at least a part of file.
Question: Is there one-month money-back?
Answer: Sorry, but we do not offer money-back. If you want to test SoftAmulance Partition Doctor, check the previews for your files as described above.
Question: Please give me free 1-day trial license to test your Partition Doctor.
Answer: If you want to test our software before to purchase, you can use the internal preview viewer and open your files right within Partition Doctor to be sure they are recovered correctly. You don't need a limited license key to perform such test.
Question: I'm afraid that even if I've seen the correct preview, the file may be recovered incorrectly.
Answer: You can be sure — if you've seen correct and full preview, we'll recover your files. If there will be any problems, just contact us, and our specialists will help you get your files recovered, we guarantee!
Question: I don't see the correct and full preview. Or I can see only product logo instead of preview.
Answer: When there is no correct preview, we do not guarantee successful recovery.Try to find your files in virtual folder Recovered Files, they may be there without original names and folders, but with better recovery results. Above is described how to access this folders.