I want to learn more about support service.
Question: How soon will be my request answered?
Answer: We answer the customer messages several times a day.
Question: You offer Priority Support service. What is it for?
Answer: With Priority Support you can expect that you problems will be resolved with highest priority, including the development of special builds of the product if necessary.
Question: I want to order Priority Support service. How can I do that?
Answer: Do not forget to check the Priority Support option on the product ordering page as shown on the screenshot:
Question: I want the phone support. Do you offer it?
Answer: Sorry, but currently phone support is not offered.
Question: I'm going to contact you and describe you my problem. What should I do to help you resolve the problems ASAP?
Answer: Tell us as much as you can about your situation in your first message. What is the type and size of your drive, what is the problem with it? How is your drive connected to the PC? What's the type and size of your files and how did you lost them? If there are any problem with the product, what is the error message displayed? How did you try to use our product? The minimal form that could help us solve your problem ASAP is following:
Your windows version (Vista, XP, 2000, etc).
What type of disk you are scanning (HDD, memory card, USB flash, etc.).
Please write size of your disk and each partition if it has.
How you have lost your files?
Was this disk formatted or files were accidently deleted?
If possible, please repeat your steps again and make the screenshot of each step and send us. After you've tried the steps where the problem appears, click Menu-Commands-Show Log-Save and send us the log file. And the last, open the Start menu, click Run, type DXDIAG and press enter, click to save all the found information and add to your message the information file.
Question: How can I make the screenshot
Answer: Screenshot is a picture with complete copy of your screen, like a photo. To make it, simply click to the Print Screen button which is placed on the keyboard as show below: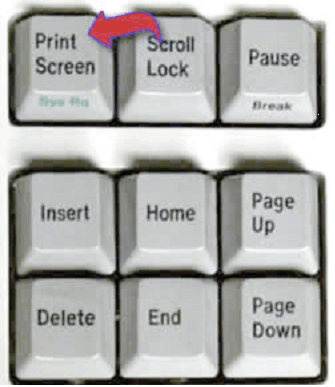 When you click Print Screen, nothing will happened, except the copy of the screen will be placed to the clipboard. Now open the Paint or Microsoft Word, and you can do Edit-Paste to paste the screenshot in the document, then just save it and send us.
Question: Is there any log in your product to provide you more information about my situation?
Answer: Yes, and it's necessary to make the log on the step before the problem appears and another one after the problem. Use Menu-Commands-Show Log-Save to get the log file.