How to test Live Mail Recovery before to pay
SoftAmbulance FAQ >> FAQ >> How to test before to pay
Question: When I want to recover anything to test the product, it asks me for license key.
Answer: We offer you the option to preview all of your found messages and attachments before to pay for the product, without any time or count limit. We support more than 200 file formats for the preview, you can check almost all your data before to purchase the product. To check the previews you need to scan your drive or email base, find the messages and start to preview them by select every single message. Selected a message, and the preview will appear below the messages list. You also can check all the available attachments. If you will see what you need in the preview — we guarantee successful recovery with the full version of the product for what you've seen on the preview in trial version. The preview means that the message or attachment is already recovered with success, and with the full product you will be able to save it from the product. The preview may not include all parts of your document, but only complete preview in original resolution without any garbage can guarantee successful recovery.Example of the preview for email with the attachment is below: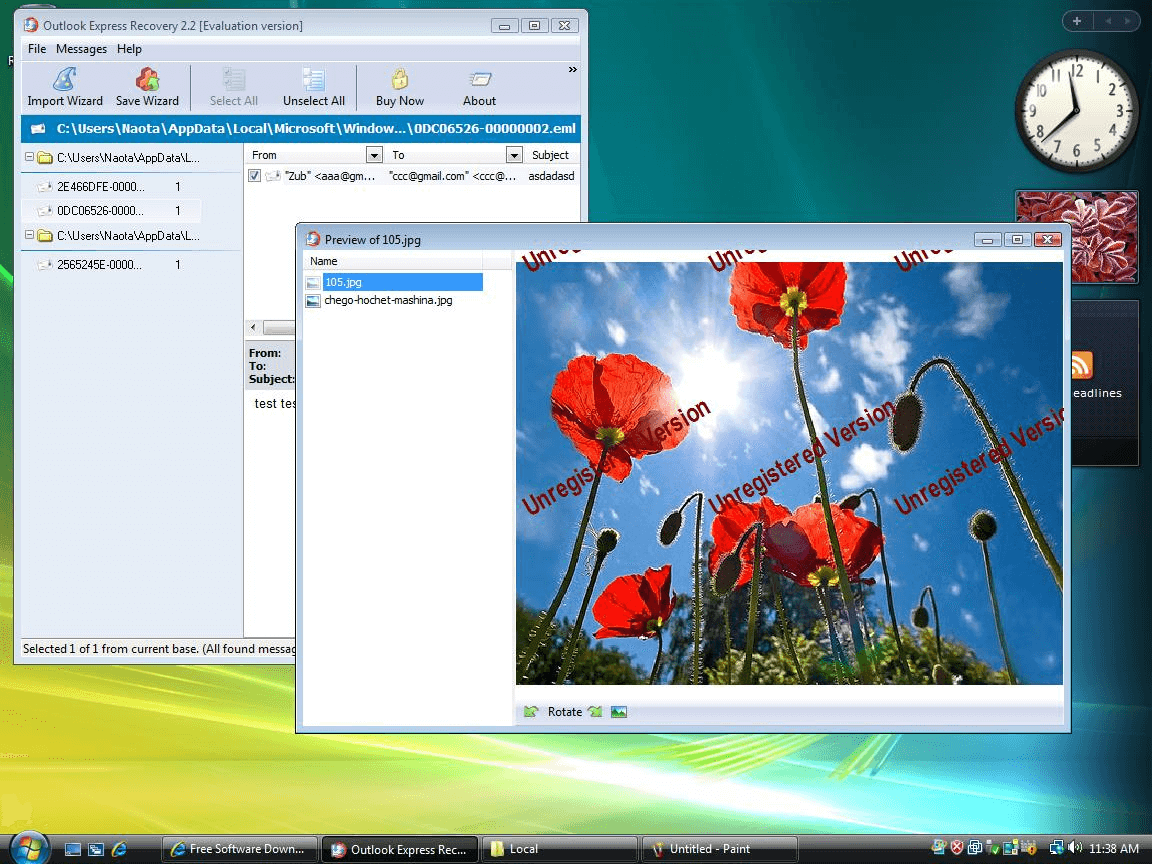 If the correct preview is not available, it does not mean that the message will not be recovered. It's just possible that there's something in your attachment that is not supported by our internal viewer, but will be fine with your application.
To the top | FAQ | Back to main FAQ contents
Question: I've complete the scan, found and previewed my messages. Will I need to repeat the scan when I purchase the full version?
Answer: No, it's not necessary. You can complete the scan with free trial version, find and preview your files, and then just select the messages you need, click to recover and you will be asked for a key. After entering the license key, the trial version will be converted in the full product and will let you save your messages.
To the top | FAQ | Back to main FAQ contents
Question: What if I can see the message metadata (topic, date, from and to fields), but no preview for message and/or attachment?
Answer: We do not guarantee successful recovery for message or attachment in this case, but you have good chances for successful recovery of them.
To the top | FAQ | Back to main FAQ contents
Question: The preview for my message or attachment is not how it should look like, it contains strange letters and numbers.
Answer: You've opened HEX preview, please try to switch the preview to native and non-HEX mode. If the normal preview of the attachment is not available, and only HEX is visible, it could be a sign that your attachment file is damaged, as our internal viewer can't display it. We guarantee the successful recovery only if you are sure that the HEX preview is complete and correct.
To the top | FAQ | Back to main FAQ contents
Question: My file format is not supported by your preview viewer.
Answer: If there is no preview available, whatever the reason, there is no guarantee for successful recovery. You can check the HEX preview of your attached file if you can say how it should look like.
To the top | FAQ | Back to main FAQ contents
Question: Is there a money-back for the product offered?
Answer: There is no money-back is not offered. If you want to test the product before to pay, please check the previews for your files.
To the top | FAQ | Back to main FAQ contents
Question: Can I have free one-time-use trial license for the test purposes?
Answer: No, we do not offer such license, but you can use our preview viewer and open your messages with attachments in our product like in your usual applications to be sure they are recovered correctly. If your files is not of rare file format, you can be sure it's supported by our preview system.
To the top | FAQ | Back to main FAQ contents
Question: I'm afraid my files will not be recovered correctly even when I've seen the correct and full preview.
Answer: If there is correct and full preview available, we give you complete guarantee for successful recovery for what is on the preview. If there will be any problem, just contact our support service.
To the top | FAQ | Back to main FAQ contents
Question: The previews are not available, how can I obtain the guarantee for successful recovery?
Answer: If the preview is not available or damaged, we do not give you any guarantee. You still will be able to try to scan your drive and recover the attachments with other our products like SoftAmbulance File Uneraser or SoftAmbulance Partition Doctor.