Data recovery made easy for Windows users
Deleted an important document? Lost all your data after a system failure? Crashed hard disk prevents you from doing your work? Corrupted or reformatted memory card no longer has digital pictures from the last photo session? Don't panic! You can recover your files and data easily and automatically with SoftAmbulance Uneraser.
This innovative data recovery tool makes file and data recovery easy to anyone. No matter whether you've lost Word documents, a set of digital pictures or compressed archives, SoftAmbulance Uneraser can recover files of any type and from any media, including hard drives, USB disks, flash memory cards and sticks, and pretty much anything else if it was formatted with FAT or NTFS. If it's not a CD or DVD, SoftAmbulance Uneraser will recover your files from there!
SoftAmbulance Uneraser is simple, reliable and bullet-proof. Even if you tried to do it yourself with free data recovery tools such as checkdisk and they messed up the disk, SoftAmbulance Uneraser can still recover your files from there by applying sophisticated scientific algorithms.
Unlike certain disk recovery tools, SoftAmbulance Uneraser finds your files and recovers your data instead of repairing the file system and other structures of the disk. The innovative Deep Scan technology is designed to recover files from media that's been severely damaged or attempted fixing with other disk recovery tools. Deep Search technology scans the entire surface of a hard drive in order to locate every recoverable file with or without a file system present. Even if the disk has been corrupted, repartitioned and formatted consequently, SoftAmbulance Uneraser will still be able to locate the files on the disk by analyzing the disk sector by sector and applying powerful filters to determine the beginning and end of files in supported formats.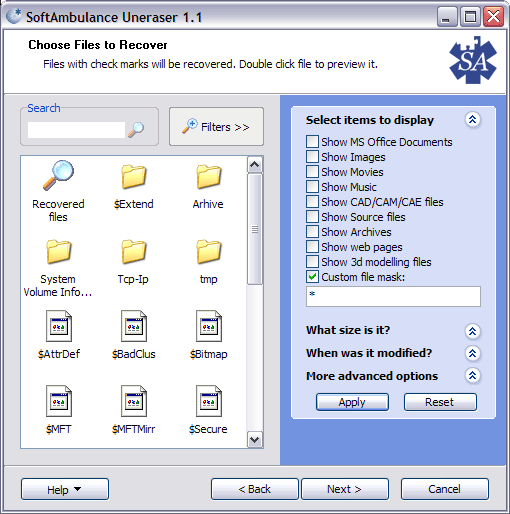 Sounds complicated? To make it simpler, many files have characteristic features in their headers that allow programs to identify them. For example, many JPEG images have 'JFIF' in their headers as a characteristic signature. When SoftAmbulance Uneraser detects a characteristic signature, it then analyzes the file's header in order to determine its exact length, name and other properties, if possible. Deep Scan supports over types of files such as office documents, digital pictures, ZIP and RAR archives, sound and videos files.
Recover your files with confidence! SoftAmbulance Uneraser does not write anything onto the disk until you explicitly tell it to do so. The pre-recovery preview feature of SoftAmbulance Uneraser works in both free and full versions of the product, and allows previewing files you are about to recover.
Deleted files tend to overlap with each other, making it hard or impossible to pick the only perfect one. The preview feature takes care of the issue by displaying you the exact content of each file in a live, what-you-see-is-what-you-get fashion. Supporting the same file formats as Deep Scan, the preview feature lets you peek at more than 150 formats before a single byte gets written onto the disk. Don't wait till it's too late! Get your free copy and more info now at http://www.softambulance.com.
So deleted files, corrupted data and lost documents no longer a problem! SoftAmbulance Uneraser is a perfect data recovery tool for the rest of us since it has all the power as SoftAmbulance Partition Doctor, except partition recovery ability. Even more: if you can see your partitions, why should you recover them? Save your money buying SoftAmbulance Uneraser instead of expensive SoftAmbulance Partition Doctor.